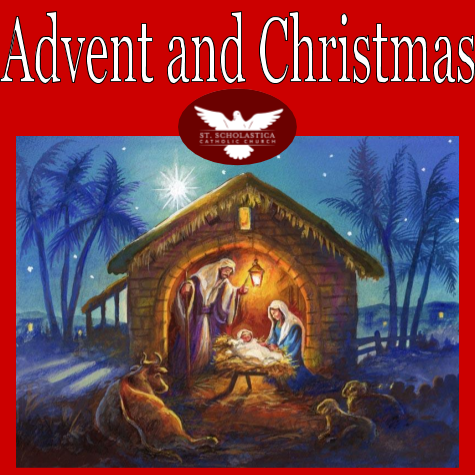 01 Dec

Advent and Christmas 2018

Advent is a time of preparation as we eagerly anticipate the birth of our Savior.

There are two wonderful opportunities on FORMED to help you prepare for the coming of Christ; sign up for one or both!

*Advent Reflections with Dr. Tim Gray, sign up here
*33 Days to Morning Glory, sign up here

Mark your calendars!

December 2……….First Sunday of Advent

December 2……….New Mass! 5:30 p.m.

December 8……….Solemnity of the Immaculate Conception, Holy Day of Obligation

December 15……..Cookies and Caroling, click here for more information

December 16……..Christmas Pageant during Religious Education classes

Christmas Eve and Christmas Mass Schedule

December 24……..4:00 p.m., 11:00 p.m.

December 25……..8:30 a.m., 10:30 a.m.