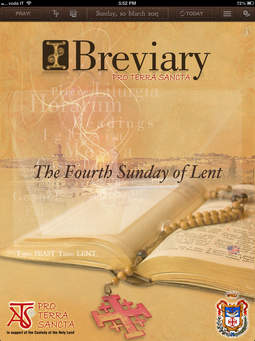 05 May

Father Rob's Favorite Apps

I was recently asked the question, "What are your favorite apps?"  Well, I just had to look at my phone and read them off.  But there is more to it than meets the eye.  My favorite apps are listed below.  I've included some of the reasons that make them my favorite as well.  Oh, and they're free!

The Pope App:  This is a very cool way to stay in touch with what is happening in the Church throughout the world.  Here you can find stories and testimonies from around the globe as well as a different side of world events that reveal the power of the Gospel.

IBreviary:  This is the Liturgy of the Hours app.  I have made a vow to God to pray the prayer of the Church 5 different times a day, every day, for the rest of my life.  This app includes the prayers that I need to pray every day and at each of the different times to fulfill my vow to God.  Many bishops, priests, deacons, nuns, religious, and lay people throughout the world pray these prayers so that in every timezone throughout the world there is another group of people who rise up to pray every day.  It is a great and beautiful devotion to praise God with the Psalms and Scriptures.  If you're looking for a new devotion, try praying one of the times or "hours" and join the Church in praising God!  This app also features the Mass, almost all the options for celebrating Mass, a Mass planner, auto scroll (so you don't need to constantly keep pushing up the screen), all the priest prayers for Anointing of the Sick, and may other prayers that priests need to carry around with them.  

Laudate:  This is a huge collection of prayers, rosaries, chaplets, devotions, Bibles, church documents, catechisms, and so much more.  This one is fun to explore and learn new aspects of the Church.

MassTimes:   This one helps me when I travel.  When I, as a priest, am on the road and want to find a church near me to celebrate a Mass, this is perfect.  Everything from driving directions, Mass times, and Confession times to information on Catholic Masses in other countries.

iPieta:   If you're looking for great Catholic Catechisms, Church teachings, Masses in other languages as well as prayers, then this app is a must have.  It has side-by-side translations so you can learn another language.  You can search scripture, bookmark the place you last ended up reading the Bible, and leave comments on scripture passages.  This app is good for study and learning.

Verbum:  This most sophisticated app that lets me search more that 1,100 Catholic books that I purchased for my continuing education.  I can find quotes from the Saints and from the teachings of the Church.  It's a great place to do serious study, even from your phone!  This one cost money – and is worth every penny!

AllergyAlert by pollen.com:  I have learned about pollen and how it works through this app, watching the air quality numbers and discovering the types of pollen that is in the air all year long!

GarageBand:  This app if fun to create my own music, ring tones, or just bring some music together and have a mini jam session.

These are my favorites and could be yours too, if you download and use them!