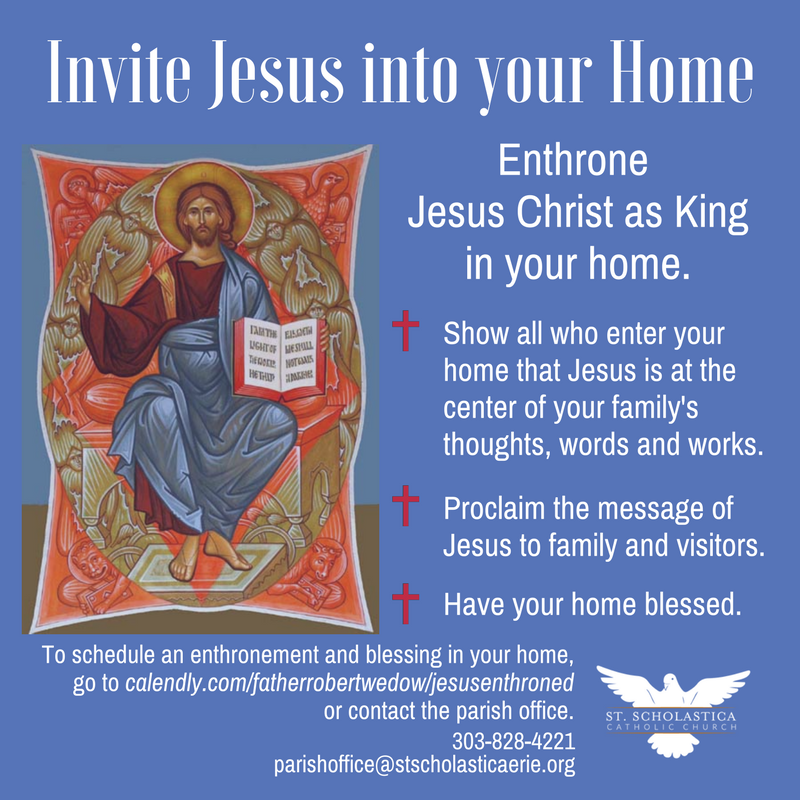 25 Nov

Invite Jesus Into Your Home
Enthrone Jesus Christ as King in your home.
Every family is invited to enthrone Jesus Christ as King in their homes during the coming year.  On the third weekend of Advent, December 15, 17 and 17, Fr. Jay Buhman will be giving our Parish Advent Mission.  During the Mission, Fr. Jay and Fr. Rob will go to the homes of those who have scheduled an enthronement and home blessing.  Times available that weekend are limited, so sign up quickly.  Additional appointments with Fr. Rob will also be available January 1 through July 30, 2018.
For your convenience, we have created two simple ways to schedule your home enthronement.  You can schedule online at calendly.com/fatherrobertwedow/jesusenthroned or you can call the parish office.
If you schedule online, be sure to answer all the questions (especially your home address including city and zip code) and read the preparation instructions in the link provided after confirming a day and time.
If these times don't work for one of the priests to come to your house, then you can pick up an enthronement packet and have the head of the household do the enthronement in your home.  Please contact the parish office for the instructions and enthronement packet.
If you have any questions, please contact the parish office at 303-828-4221.